Vessel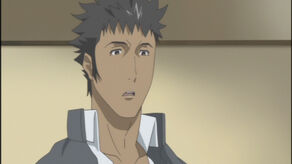 Yuuya Daigo (醍醐 雄矢 |
Daigo Yūya
)
Daigo is the captain of the Magami Academy Wrestling Club, but he is also an aspiring chef. Yuuya Daigo happens to have a crush on Komaki Sakurai, and he is constantly seen cooking big meals for her; at one point, however, Komaki gets angry at him and says that he does not truly understand how she feels, throwing his meal on the ground. Tohno gives him a book of Komaki's favorite foods, which are mostly candy and regular convenience store foods. Komaki then
Character Data

だいご ゆうや

Birth date

April 23 (Taurus)

Age

18 years

Star of Fate

Byakko (White Tiger of the West)

Star Class

Seijuu (Four Gods)

High School

Magami Academy (Class 3C)

Club

Wrestling Team Captain

Height

190 cm

Weight

100 kg

3 sizes

125-93-98

Blood type

A
she accepts his next meal, along with his apology for not being considerate. At the end of the 2nd season, it seems Daigo and Komaki's relationship deepens, as they are seen together in the end.
Daigo wasn't always such a considerate, humble guy. In his middle school days, he resented his father so much he created a gang of thugs, with his best friend, Renji Magatsu, as his lieutenant. They stole and brawled throughout the Shinjuku back streets, even clashing with Kyouichi Houraiji. It wasn't until Renji was arrested for murdering his own father that Daigo decided to clean up his act.
However, when Tatsuma Hiyuu first transferred to the high school, Yuuya Daigo challenged him to a fight, but it was disrupted by Aoi and Komaki (but ultimately gathering them during the disruption in the Dragon Stream). He sometimes fights with his chain belt wrapped around his arm. And later it is revealed he is the Vessel of the White Tiger or Byakko; Daigo is the first to metamorphose into the Deity in Dai ni Maku, protecting Komaki against Renji Magatsu.
Personality
Edit
Yuuya is good, humble and modest boy. He likes to help komaki and others to defeat the enemies. He has a crush on Komaki, he tries to impress her by making a lunches or protect her from getting hurt.
Daigo's powers enhance his brute strength, agility, endurance, and durability. His powers support his natural hand-to-hand combat skills gleaned from his wrestling abilities and street brawls. In the anime, Daigo uses his chained belt as a weapon for battling, which magically extends to a whip-chain (chain whip weapon used heavily in some wushu forms) length; however, his main strength is powerful kicks and devastationg blows. He is physically one of the strongest amongst his friends.