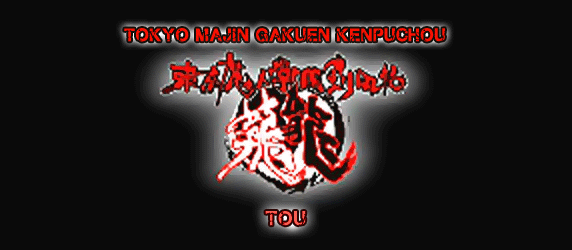 Welcome to Magami Academy - where the senior students have very dangerous extra curricular activites...
Tokyo Majin Gakuen Kenpucho: Tou is an anime series which premiered in Japan on the anime satellite TV network Animax, and was directed by Shinji Ishihara. It is a part of the large Tokyo Majin Gakuen franchise, which began in 1998 with the release of the very first video game, Tokyo Majin Gakuen Kenpuuchou (sometimes transliterated as Ken Kaze Tobari). The anime itself is based on the manga adaption of this game. The first season of the anime originally aired on January 19, 2007, and ended on April 20, 2007, and was met with mixed reviews. This was mostly due to the fact the characters were redesigned, and also many from the franchise did not make it to anime form, which left many gamers dissatisfied.
Outside of Japan, it remains a more obscure title. Reviewer Brian Cirulnick at Anime.com said of the series: "Tokyo Majin is the best anime series you've never heard of. But ... it'll be the series you can't get enough of." The anime's edgy artwork, dark atmosphere, and sleek action sequences have earned it praise from those who have chanced a viewing; but the lack of closure and inside meanings left many unable to enjoy the title, having no idea of the Japan-only video game series.
Please take a moment to look over the ever-expanding wiki. There's a lot to learn from this anime's long history, and more contributors and outside translations are most welcome. Be aware, the wiki contains major spoilers - read at your own risk. Thank you for visiting!
~ Join Our Club ~
Anime Trailer


News
On June 26, 2007, ADV announced they had acquired the license to this series. ADV distributed the series under the title of Tokyo Majin (meaning simply "Tokyo Wizard"), dropping Gakuen Kenpucho Tou from the title.
Tokyo Majin Season 1, Part 1 is available for purchase on Amazon. ( Link )
Tokyo Majin: Season 1, Part 2 is available for purchase on Amazon. ( Link )
In 2008, the anime became one of over 30 ADV titles whose licenses were transferred to Funimation.
Tokyo Majin: The Complete Series is available for purchase on Amazon. ( Link )
Latest Activity
Community content is available under
CC-BY-SA
unless otherwise noted.