Anime Soundtrack
Edit
Music by: Takayuki Negishi
Genre: TV Original Soundtrack/J-Rock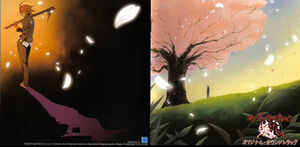 Release date: 2007.11.22
Keycode: ASCS-2319
Track List (Japanese text)
1. 《宿星》の者たち
2. 0:00 A.M.(TVサイズ)/ ACID
3. 覚醒
4. 如月骨董品店
5. 不吉な予感
6. 《鬼》
7. 《人ならざる力》
8. 穏やかな日々
9. 不穏な動き
10. 不安
11. 夢地獄
12. 《外法》
13. 緊迫した戦い
14. 放課後
15. 九角一族
16. 呪い
17. 死者の宴
18. 決断
19. 悲しき結末
20. 宿命の戦い
21. 散りゆく命滅びぬ《宿星》
22. 花吹雪 (TVサイズ)/ ACID
Track List (Romanization)
1. <Shukusei> no monotachi
2. 0:00 A.M. (TV size) / ACID
3. Kakusei
4. Kisaragi kottouhinten
5. Fukitsuna yokan
6. <Oni>
7. <Jin narazaru chikara>
8. Kanahibi
9. Fuonna ugoki
10. Fuan
11. Yumeji goku
12. <Gehou>
13. Kinpakushita tatakai
14. Houkago
15. Kodzunu ichizoku
16. Noroi
17. Shisha no utage
18. Ketsudan
19. Kanashiki ketsumatsu
20. Shukumei no tatakai
21. Chiriyuku mikoto horobinu <Shukusei>
22. Hanafubuki (TV size) / ACID
The orchestration titled Chiriyuku mikoto horobinu <Shukusei> (track 21) that was used for BGM in the 2007 anime is the same music composition used in some of the original versions of the Tokyo Majin Gakuen franchise, which began almost 10 years earlier. The music's original title was 風詠みて水流れし都 (Kazeyomite suiryuureshi miyako).
Kazeyomite suiryuureshi miyako was also the title of the Tokyo Majin Gakuen Denki 10-year Anniversary Commemoration Concert event held on 2009.4.4 in Nagoya.
Opening Themes
"0:00 a.m." by ACID (first season + episodes 1 - 5 and 11 of second season)
"Prayer" by ACID (second season: episodes 6 - 9)
Closing Theme
"Hanafubuki" (花吹雪) by ACID
Insert Songs/Music
"Growing Up" by ACID
"15 sai -fifteen-" (15才-fifteen-) by ACID
"The Four Seasons-Winter Violin Concerto" by Antonio Vivialdi
Opening, Closing, and Insert songs were provided courtesy of the J-Rock/Visual kei band ACID.
ACID (バンド) was created in 2003 by rock artist Hideki Imamura (今村栄喜), who actually parted ways in 2005 to once again go solo; apparently, he didn't want ACID to be compared to his original, popular group SIAM SHADE. In 2006, guitarist Kim had to drop out of the band to return to South Korea when he was drafted by the military (service is mandatory in Korea). When vocalist Junpei and guitarist Masamitsu left ACID in 2008, the remaining members eventually re-formed as the band Needless-Lyrics. Junpei had been suffering from pneumothorax for several years, continuing to sing for ACID despite chest pains, and decided to focus on his health when he was faced with a third surgery. Masamitsu left to explore other opportunities.
Band MembersEdit
Vocals: Junpei (淳平)
Guitar: Daisuke (大介) -formerly with e.mu-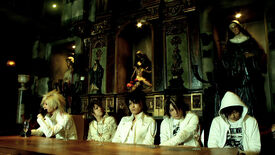 Guitar: Masamitsu (昌満)
Bass: Yuuta (遊汰) -formerly with SOLID-
Drums: Seiichirou (誠一郎)
Former MembersEdit
Lead, Vocals, Keyboard: Hideki (未来)
Guitar: Kim (キム|김)
ACID Discography
Edit
ACID officially disbanded in 2008, and the following is a list of CDs they released during their career.