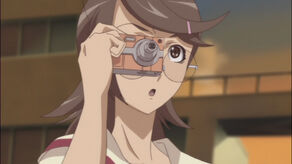 Kyouko Tohno (遠野 杏子 | Toono Kyouko) or "Anko" as she is nicknamed by all, is an overzealous reporter-in-training who is labeled a stalker by Kyouichi Houraiji.
Relationships
Edit
At the end of the series she develops feelings for Kyouichi, even calling out his name at graduation.
Anko is another reading of the kanji of her first name (杏子 = きょうこ or あんこ).
Character Data

とおの きょうこ

Birth date

February 27 (Pisces)

Age

17 years

High School

Magami Academy (Class 3B)

Club

Newspaper Editor

Height

162 cm

Weight

46 kg

3 sizes

89-61-88

Blood type

A